Deprecated: Function split() is deprecated in /var/sites/r/rsesymposia.org/public_html/hbmore.php on line 207
The costs and causes of hurricane Katrina, by Liam Hodkinson,
Deprecated: Function split() is deprecated in /var/sites/r/rsesymposia.org/public_html/includes/vars.php on line 97
21/10/2009 19:00



Symposium delegates were today warned that the degradation of global wetlands will have disastrous consequences for the world's low-lying regions. Participants were given a guided tour of the sites worst affected by hurricane Katrina by the former deputy director of Louisiana State University Hurricane Centre, Ivor Van Heerden.

The director of the Study of Public Health Impacts of Hurricanes explained that wetlands reduce the surge of water caused by storms and offer cities organic protection from the forces of nature.

Mr Van Heerden suggested a three-phase protection plan to reduce the threat posed to populations living below sea level, involving the development of barrier islands, wetlands and "robust" levees designed for one-in-5,000-year storms.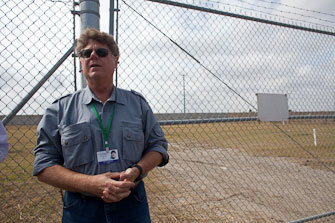 The advice may become relevant to more than half of the world's population living in coastal zones if the Intergovernmental Panel on Climate Change's prediction of a 0.59 metre rise in global sea levels by 2099 is proved accurate.

Visiting 17th Street and the lower ninth district of the Big Easy, delegates got a clear impression of the devastation wrought on August 29th 2005 when 80 per cent of New Orleans was submerged.

Areas of New Orleans were hit by waves as high as 18ft as water channelled into the sub-districts by the Mississippi River Gulf Outlet (MR-GO) breached levees weakened by failures in their structural design and maintenance, said Mr Van Heerden.

Four years on, condemned houses remained untouched in many areas and just 30 per cent of St Bernard Parish residents have returned.

Mr Van Heerden, a South African who has lived and worked in Louisiana for 20 years, suggested that New Orleans could be easily protected in the future.

He told delegates that diversions cut into the Mississippi River could restore the historic flow of sediment into the wetlands and regenerate the area's ecosystems, while the implementation of storm defences similar to those employed in the Netherlands would reduce the threat posed by storm surges.

"We want the rest of the world to understand that we can save Louisiana," he said.

Mr Van Heerden offered these views just weeks before the Copenhagen Climate Change - an event described by many as the most important meeting in history.

An outspoken critic of the Army Corps of Engineers, which manages US water resources, he claimed that the disconnection between science and government policy must be addressed.

The hurricane expert explained that before Katrina he had issued persistent warnings to the federal agency of the potentially disastrous implications of a major hurricane in Louisiana.

In 2004, he conducted an exercise with the Federal Emergency Management Agency in which a fictional hurricane named Pam hit New Orleans with winds of up to 120mph. It estimated that 69,000 people would perish and between 500,000 and 600,000 buildings would be destroyed.

The author of The Storm is awaiting an imminent decision in a multi-billion dollar civil federal court case brought against the US government by local property owners.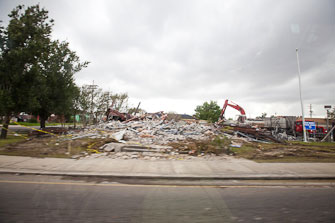 The plaintiffs argue that the 76-mile MR-GO - used as a navigation channel for the shipping industry before its closure in April 2009 - amplified the effects of Katrina by focusing the storm surge into the heart of the city.

This case could have profound consequences, as a verdict in favour of the plaintiffs could force Washington to compensate Katrina victims, as well as leading to a redesign of New Orleans' levees and the reconstruction of its wetlands.

Katrina was the costliest hurricane in US history and contributed to the deaths of more than 1,800 residents, but Mr Van Heerden believes that positives can still be drawn from the experience.

There were things that could be done better in future, he said. "The amount of flooding that occurred in different areas did not depend on elevation but on the quality of the levees."

By Liam Hodkinson
Back