Deprecated: Function split() is deprecated in /var/sites/r/rsesymposia.org/public_html/hbmore.php on line 207
Opening Ceremony of the 8th RSE Symposium, New Orleans,
Deprecated: Function split() is deprecated in /var/sites/r/rsesymposia.org/public_html/includes/vars.php on line 97
21/10/2009 11:00



Stern messages from the Ecumenical Patriarch and the Pope about the threats to the future of the planet greeted delegates gathering in New Orleans for the eighth symposium of the organisation Religion Science and the Environment. The opening ceremony took place on the bank of the Mississippi, beneath blue skies and in a blustering wind, as barges and pleasure boats passed up and down the river behind.

His All Holiness Patriarch Bartholomew, speaking less than six weeks before the Copenhagen summit on climate change, declared that this was a defining moment in the human story and we had reached "absolute limits" in our relationship with nature.

The pollution of great rivers, the destruction of forests, the spread of desertification and catastrophes such as Hurricane Katrina were signs that we had lost our balance, and the recovery of balance, in ourselves and in the environment, was "a sacred responsibility to the future".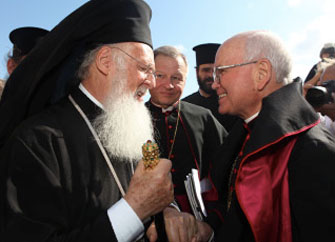 Archbishop Gregory Aymand of New Orleans read to delegates a message from Pope Benedict XVI that was no less urgent. It was time, the Pope said, to reflect soberly on man's custodianship of nature and to end the "reckless exploitation" of nature.

Christians everywhere must offer "a credible witness of responsibility for the safeguarding of creation", and the Pope called on people "to cooperate in every way possible" to preserve the God-given grandeur of the earth.

"Authentic human development ... calls for intergenerational justice and practical solidarity with the men and women of the future, who are also entitled to enjoy the goods which creation, as willed by God, is meant to bestow in abundance upon all," he said.

Another message came from former US Vice-President Al Gore, who warned that it had "never been more imperative to act than now". Speaking of his long association with the man he called the Green Patriarch, Mr Gore said that it was disappointing to see that the bulk of the work they shared still lay ahead. Humanity was struggling to absorb the urgency and scale of the task, and "raising ourselves above the personal interest was harder than we thought".

The gathered religious leaders and dignitaries were also addressed by Archbishop Demetrios of the United States who spoke of the appropriateness of gathering in what he called the "ecologically seriously wounded" city of New Orleans.
By Brian Cathcart
Back